More than 400 educators came together during our first-ever Back to School Camp to learn, brainstorm, and collaborate on the complex task that lies ahead: facilitating a safe and engaging return to school for our students this fall. In addition to the live "trail hike" sessions, we made sure to give campers plenty of ways to share their thoughts, ideas, and points of view throughout their time on the trails together. Watch the recap video below and read on for highlights, insights, and key takeaways that came out of this retreat into the digital wilderness!
Back to School Camp Recap
Administrators, teachers, and staff chose between two trails. The Adventure Trail headed towards building-wide planning, mapping out a back-to-school strategy, engaging parents in the process, assessment and grading policies, and addressing learning gaps; and the Discovery Trail focused on topics like on-the-ground tactics, training and skill building, resources for remote and hybrid learning, and strategically employing technology. Some of the best conversations happened during job alike sessions, when campers huddled with others in similar roles to discuss questions about their responsibilities.
Around the Campfire
Back to School Camp began and ended with a semi-traditional circle around the virtual campfire—kicking off with scary stories about the biggest challenges we face this fall and how we can turn them into opportunities. We used a word cloud creator to gauge how campers were feeling on the first night, and as you can see, they came to camp feeling anxious, uncertain, nervous, overwhelmed (and a little excited!)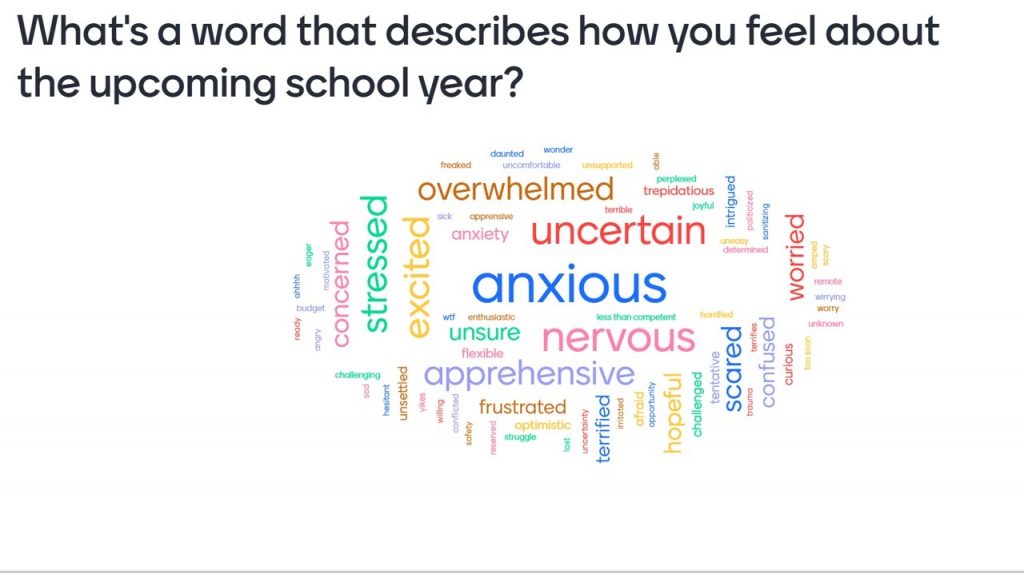 But after three days of collaboration and camaraderie, our campers had drastically changed their tune. The same anxious campers were transformed: they left camp feeling hopeful, inspired, energized (and still excited).
Our community was understandably weary after unprecedented challenges this spring, but with the characteristic enthusiasm of middle school educators, we were able to rally together and prepare each other for a smooth start to the school year this fall.
Highlights
We also created a Padlet map for campers to share words of encouragement, inspiration, and gratitude with other campers during their time on the trails.
We've gathered some of the best responses from the map and from the #AMLEcamp hashtag on Twitter:
"Enjoying my time learning from experts, chatting with other MS professionals, and taking time to think about the fall." Emily Tinawi @ezaboo4226
Listening to Rick Wormeli speaking passionately about assessment and I keep spontaneously applauding at the screen. SO MUCH about assessment in schools is problematic, and we need to explore how to do better! Erin Gaudet @MadameGaudet
Today I got to participate in a session on grading with Rick Wormeli. ! I am so inspired to change the way I do things. I love this… "Grades are not compensation. Grades are communication. They are an accurate report of what happened." Emily Tinawi @ezaboo4226
"Rick Wormeli reminded us to start the year intellectually challenging our students not just reviewing. I think this year it's even more important. Such a good reminder." Emily Tinawi @ezaboo4226
"First, I want Simone Lewis to be my teacher. Her energy is exactly what students need. Her session on engagement made me so excited for the fall! I definitely have some easy takeaways to hook students in!" Traci Curry @TeachwithTLC
Insights
Of course, Back to School camp wouldn't have been such an inspiring trip without our presenters. Both trails merged on the second day of camp for a few big breakout sessions with Rick Wormeli on assessment, identifying and bridging learning gaps, and addressing cheating concerns, as well as a couple of SEL-focused breakouts with Lori Desautels on PTSD and ACE in student, staff, and parents and strategies for trauma-informed instruction. Campers took brain breaks with group meditation and yoga sessions, and they connected to discuss hyper-relevant topics in job alike sessions and participant-centered unconference sessions. Check out some of the key takeaways from camp:
Use the technology available to engage students: you don't have to start lessons in the virtual classroom from scratch. The template lessons available from applications like Nearpod and Flipgrid are a great head-start!
Relationships with students and your school community are incredibly important, and they do contribute directly to student success. Campers learned practical ways to build these relationships during several sessions; Gail Heinemeyer @glhnms shared this African proverb which illustrates the point perfectly: "The child who is not embraced by the village will burn it down to feel its warmth." Maryfrances Baum @MaryfrancesBaum connected better relationships with a decrease in cheating: "Emotion is the connection. Consider why students might plagiarize/cheat. Are we focused more on the grade, the prestige that follows or the competition amongst peers? Are we creating an environment where students feel this is the only alternative?"
Don't dismiss the power of the network! Job alike time was one of the most powerful experiences for our campers: when principals, counselors, tech coordinators, fifth-grade math teachers, and others in the middle school community found their peers in similar roles and came together to talk through the challenges they are facing.
Each school community needs to involve teachers in the decisions around going back to school and deciding what's best for their individual school. If you're feeling lost, know that most things are still undecided right now for schools across the country.
More insights from our speakers:
"Make an 'F" or zero recoverable. It's recovery from mistakes that matures students, not being labeled permanently for them." Rick Wormeli
"We must start our days intentionally addressing brain states. Students can't learn if we don't reach their cortex, and trauma affects the brain. Ideas include journaling, morning meetings, art." Lori DeSautels, Ph.D.
COVID has created environments with chronic unpredictability, isolation, and emotional and physical restraint. SEL is going to be SO important when we return in the fall (regardless of mode). – Lori DeSautels, Ph.D.
If you're feeling like you missed out on this adventure, don't worry. There are still plenty of ways to access the resources and learnings from Back to School Camp. We are here to help!