Explore the latest articles, resources, and events for middle school educators.
Explore the latest articles, research, and professional development opportunities and events as well as resources and tools specifically designed for middle school leaders.
Explore the latest research in middle level education, resources for aspiring teachers and teacher educators, and upcoming collegiate programs and events.
It had taken a bit of back and forth, but I had finally understood the root of the parent's concern. "My parents raised me to believe everyone is the same no matter the color of their skin. All this talk about race is racist because it highlights differences," the parent further explained. And I came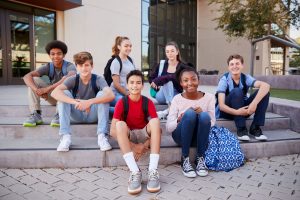 Before we start another school year, I have to address something dangerous. Thankfully, it has nothing to do with a pandemic, masks, or bottles of hand-sanitizer. This school-based danger comes in the form of the word "mindset." Allow me to explain the dangers. First, I have no problem with one part of the word, "mind"–because
For Immediate Release July 12, 2021 Association for Middle Level Education, American Student Assistance Launch Digital Playbook for Career Exploration in the Middle Grades Columbus, OH — July 12, 2021 — The Association for Middle Level Education (AMLE) and American Student Assistance (ASA) announced the launch of Career Exploration in the Middle Grades: A Playbook
We set out to create a fair and consistent system that also promotes positive relationships within our school community Are your school's expectations and consequences clear and transparent? Can your colleagues, students, and families understand how discipline decisions are made by using common language and definitions? Would several different administrators be able to consistently address
COVID-19 created unprecedented challenges but also served as a catalyst to rethink important aspects of our schools. One area where I see a big opportunity is to reimage middle school culture. AMLE's landmark position paper The Successful Middle School: This We Believe highlights the importance of engaging families as valued partners and collaborating with community
Not everyone is comfortable with re-do's and re-takes, which are more appropriately recognized as re-learning (or learning properly) and re-assessing. Some of us experience pushback when suggesting these practices to colleagues, then succumb to those pressures thereby denying their use in our classes. As a result, our students don't learn the required content and skills.