Middle school teachers dedicate their careers to building learning environments where each individual student can thrive. We know that those who teach middle school choose to work with 10-15-year-old students because they care about the unique developmental changes that happen during this formative time and are passionate about helping students develop as individuals while they learn.
Teachers carry an incredible responsibility for students' education and personal development. It's part of our vision at AMLE to not only connect teachers with the resources they need to do what they do best, but also connect them with each other to build a community and a platform for hardworking and passionate professionals who have ideas to share.
The Successful Middle School: This We Believe
The single best resource we offer for teachers is our foundational position paper: The Successful Middle School: This We Believe, recognized as the best articulation of the middle school concept. Ground yourself in best practice by exploring the five essential attributes and 18 characteristics of successful middle grades schools with a host of AMLE resources including books, online courses, videos, and more.
An African American first-year teacher on perseverance and an unwavering focus on student success
Six things I learned during my first year of teaching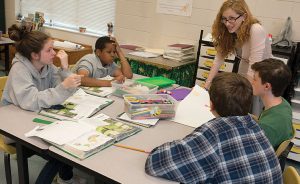 Five new teachers share their strategies for success and sanity.
Middle School Walk & Talk Podcast – offering heart, hope, and health to members of our middle school communities. Take a walk with hosts Phyllis Fagell and Joe Mazza as they discuss self-care, student well-being, school culture, and more. 
Stress Management: For Teachers and Their Students – AMLE and the neuroscientists and mental health experts at Brain Power Academy have teamed up to offer a new course to help middle school communities manage stress and develop resiliency 
Fundamentals for the Middle School Teacher 
Reading to help you recharge, be inspired, and ground your practice in the middle school concept 
Patient and Tenacious Teaching by Rick Wormeli. Effective teaching and learning take time and robust expertise. The sooner we and those mandating policy upon us recognize these non-negotiable elements, the better we can serve our mission.
Growth Buddies: Priceless Professional Development by Rebecca Kordatzky and Michele Lapean-Usher. Having a colleague who serves as a sounding board and a support system is a valuable part of professional development.
The School Is a Teacher—But What Are the Lessons? by John Lounsbury. School is so much more than a physical facility in which teachers present lessons; it is a laboratory of living where ongoing practices and relationships educate.
The Importance of Classroom Structure by Dru Tomlin. Decisions teachers make about the physical classroom structure can have a profound effect on building relationships and engaging students.
Contact Information
For general questions: 1-800-528-6672 or membercenter@amle.org